build! Mentoring
Once you have become self-employed, you are often faced with great challenges. In such cases it helps to be able to turn to an outside party who help you to identify problems and to approach them in a special manner.
Mentoring allows for a comprehensive transfer of knowledge from experienced entrepreneurs who already possess expertise and an extensive knowledge of the industry to company founders who are still at the beginning of their careers.
Mentoring is temporary personal support during and/or after the start-up process.
With expert knowledge and useful snippets of advice, established entrepreneurs, high-level personnel and other experts can provide inexperienced start-up owners assistance relating to problems of business, as well as provide access to new networks.
Mentoring creates a WIN-WIN situation for both sides.
Das build! Mentoring Programm
build! Mentoring in cooperation with Austrian Senior Experts Pool
Since autumn 2019 there is build! Mentoring program together with ASEP. Through this cooperation we make the build! Startups have access to an Austria-wide mentoring network of senior experts from a wide range of industries.
Growing across industries and generations
As part of our Advanced II and Premium Programmes, we provide our founders with a mentor with experience for a period of 8 or 12 months. We use an Austria-wide network of senior experts, as well as the build! network.
Procedure and objectives
At the beginning of the program there is matching, which is essential for the success of the mentoring program. Based on the objectives and requirements of the founders, a suitable tandem partner is sought.
Mentors and mentees get to know each other for the first time at a joint kick-off event. Subsequently, topics and goals are defined for the duration, which are worked on in a regular personal exchange.
The mutual personal exchange on previously defined topics and goals is the core element of the mentoring program. In addition, workshops are held with all participants to ensure cross-mentoring.
More about the mentoring network:
build! Mentoring im Überblick
limited in time (8-12 months)
ongoing supplementary events and networking
Start each autumn


Chances for Mentors
You are able to look back on a successful career and would like to make your experience and knowledge available to young entrepreneurs as a senior expert?
How will you benefit as a mentor?
Insights into current trends and fresh ideas
Get to see new perspectives
Reflection on one's own work and learn to understand it better
Strengthening communication skills
Training of one's own consulting competence and of leadership skills
Access to innovative business opportunities
Appreciation and satisfaction
Would you like to pass on your expertise and benefit from mutual exchange?
We would be more than happy to let you know about current projects and discuss possible starting points with you.
Contact us on how to become a mentor and other questions.


Chances for Mentees
You are a young entrepreneur and need strong backing for the development of your company?
Do you believe that your young company can, with the right support, still make a noticeable leap forward in development?
How will you profit from mentoring?
Extensive first-hand experience and expertise
Get to know and optimise your own skills better
Development of one's own personality
Enhancement of problem-solving strategies
Access to an exclusive network
The build! Team is at your disposal at any time for further questions you may have.
Contact us and benefit from experienced experts.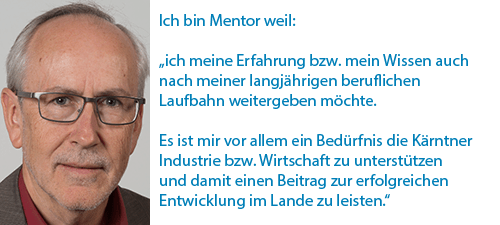 Ferdinand Sereinig (Mentor seit 2016)
Schwerpunkte:
Innovationsmanagement
Leadership Coaching & Mentoring
Organisationsentwicklung
High Performance Organization Assessments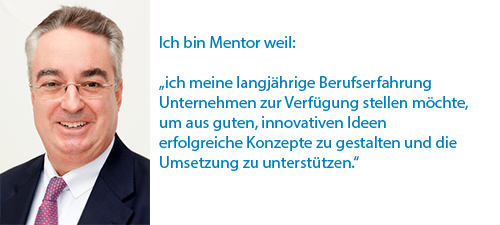 Nikolaus Hartig (Mentor seit 2017)
Schwerpunkte:
Unternehmensstrategie
Marketing- und Verkaufsstrategien),
ECR (Effizient Consumer Response), Kundenbindungsprogramme
Innovationsmanagement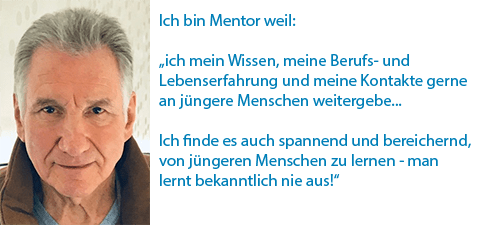 Roland Pototschnig (Mentor seit 2002)
Schwerpunkte:
Business Plan
Strategische und operative Unternehmensführung
Finanzierung, Investitionsrechnung und Unternehmensbewertung
Suche nach Investoren, Projektmanagement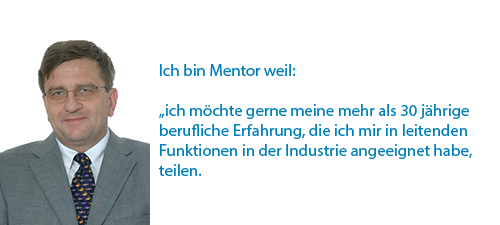 Paul Vondracek (Mentor seit 2020)
Schwerpunkte:
Technische Leitung
Internationales Projektmanagement
Interne Kontrollsysteme
Riskmanagement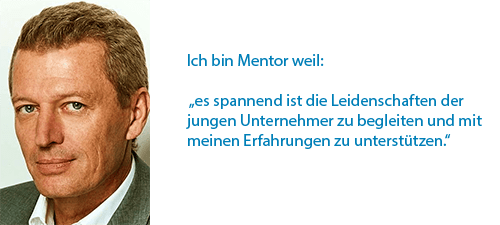 Philipp Wille (Mentor seit 2019)
Schwerpunkte:
Positionierung
Unternehmensentwicklung
Business Plan, Finanzplan
Investorensuche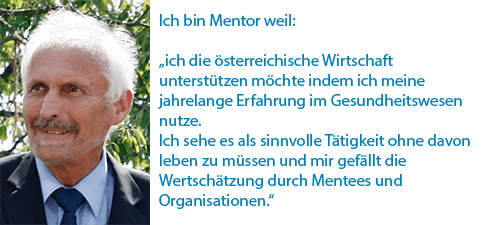 Fritz Bruner (Mentor seit 2019)
Schwerpunkte:
Entwicklung und Einsatz von Medizinprodukten
Konzeption und Implementierung komplexer
Gesundheitsprojekte
Führung von Gesundheitseinrichtungen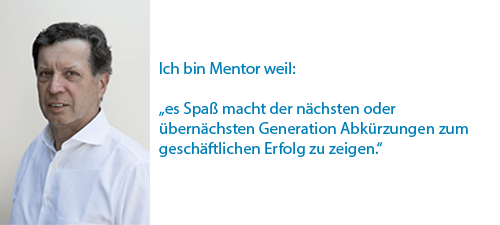 Michael Klemen (Mentor seit 2018)
Schwerpunkte:
Digitalisierung, IoT & Business Process Innovation. Design Thinking
Einkauf, Supply Chain, Adaptive manufacturing
Automotive / Diskrete Fertigung / Manufacturing
Mitgründer eines IoT StartUps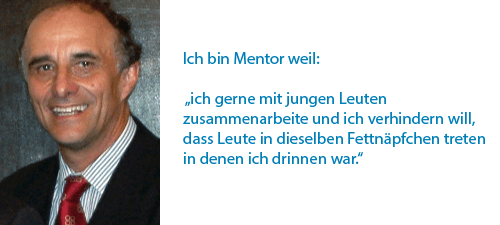 Rudolf Pinter (Mentor seit 2019)
Schwerpunkte:
Marketing von Produkten/ Öffnung neuer Märkte,
Optimierungsprojekte
Verhandlungen im interkulturellen Kontext
Claim- Management,Design to Cost Projekte, Supply Chain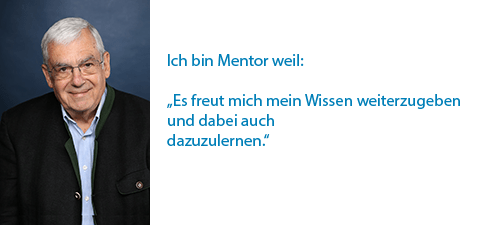 Ferdinand Wieland (Mentor seit 2020)
Schwerpunkte:
Prozessorientierte Beratung
Projektmanagement, Strategieentwicklung, Situationanalysen
Qualität-Prozess Management, Marketing, Digitalisierung
Budgeting and Controlling

Günther Zöls (Mentor seit 2019)
Schwerpunkte:
Strategische und operative Beschaffung
Digitale Transformation, Open Innovation
Qualitäts- und Umweltaudits
Verhandlungstrainings
internationales Coaching, Consulting, Counseling
Get in touch:
Step by step to your own business! Take the first step and contact us!